Global Graduate Programme at BAT North Western Europe
Our 18-months Global Graduate programme combines a real job with structured development through an on-going focus on learning and training. You will participate in the Global Graduate Academy and meet other BAT graduates around the world to broaden your international network, as well as the chance to liaise with leadership team and showcase your potential.
You will join one of our North West European teams through three rotations, including an international one. You will discover how our various departments work and gain insights into the business: Our factory operations, the products we sell, the markets we operate in, the organizations we compete with, and, most important of all, our customers. It will give you a chance to make an impact on our business and ultimately if successful, set you up for a successful career within BAT as a future leader.
Functions where we hire Global Graduates in the North West Europe Area include: Marketing, Digital Marketing, Trade, Supply chain, Operations, Data & Analytics and Finance.
Meet some of our current Global Graduates in North Western Europe Area



Learn about the dynamics of the programme
Marketing Programme:

​​​​​​​Trade Activation / Sales / Operations (End Market level)
Brand (Area level)
Strategic Planning & Insights or Digital Business Solutions

Digital Marketing Programme:

End Market D2C
Area D2C
Digital Business Solutions
At the end of the Programme, Global Graduates would ideally be willing to relocate for their permanent role. This type of mobility would promise a fast career, which can mean potentially moving up the grades and roles faster.
Global Grad Academy
At BAT, we believe in independence: It is down to you to take the initiative when it comes to your career. 70% of your learning and development will be on the job. 20% will be through coaches, mentors, and colleagues. The final 10% will be formal training at Global Grad Academy.
Global Grad Academy is our 2-weeks flagship leadership training with the Global Graduate cohort across the globe where you will meet fellow graduates and senior colleagues from across the globe in the heart of the English countryside and at international trainings.
The Academy is a great opportunity to connect with fellow graduates from around the world, so you can share your experiences, celebrate your achievements, grow together and embrace the sense of global community and collaboration that defines us as a business.

How to become a Global Graduate?
Interested in joining us on a Global Graduate journey? Check our Selection approach to learn more about the recruitment process.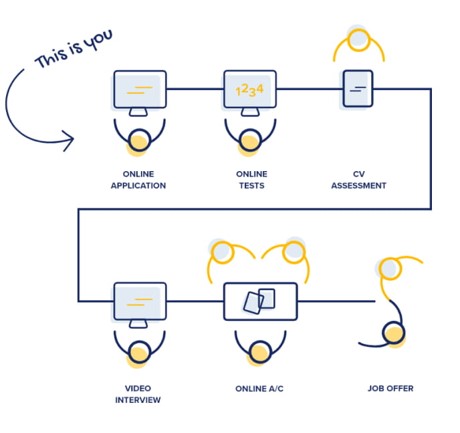 Are you ready to Be The Change?
Check out below videos and get excited!