At BAT, we're committed to building A Better Tomorrow™ and the women of BAT Operations are at the centre of it all. From reducing the health impact of our products, to sourcing greener materials and protecting suppliers.
Today in our interview series, we'll be talking to Maya. Previously her role centred around research and teaching, Maya then decided to change career paths, accepting a role at BAT in the Agronomy & Technology deployment. Now, as Regional Leaf manager, she leads large teams. As a mid-career recruit, Maya demonstrates that, while cross-functional moves can be challenging, they can also increase career prospects and job satisfaction.
By sharing Maya's story, we hope to show other women that, no matter their background, they too can make a positive global impact.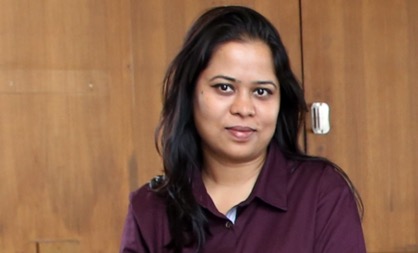 Q: What does your role in Operations involve?
A: My job is a business-critical role; I simultaneously work across operations, campaigns and communications. This involves working directly with farmer communities and external stakeholders. Having in-depth functional knowledge and strategy is key, so I strive to keep learning. The most critical aspect of leadership positions like mine is the ability to effectively communicate to both internal and external stakeholders.
Q: What is the culture like at BAT?
A: At BAT, we emphasise inclusivity. Being a team player is appreciated for both morale and business performance. We have a saying: "knowledge shared is squared". In work and life, we're stronger together.
We also have a learning culture. My team and I are always willing to learn so we can do our jobs better. It's inspiring to be around people who want to grow both together and as individuals.
Q: Do you think your career at BAT has changed you in any way?
A: When I first joined, it was initially challenging to adapt to a corporate environment. But in the three years and ten months I've worked here, I've grown. I've learnt to work as a team, whereas before my work was relatively solitary. I've become more agile, resilient and better at multitasking, and these skills have helped me become a better mum to my two children.
Q: What's it like as a woman at BAT?
A: At BAT, what matters is being willing to learn and contribute; having a can-do attitude; and delivering results. Gender doesn't come into the equation. BAT has gone to great lengths to build a female-friendly environment, providing female employee resource groups and promoting gender inclusion through a business KPI. While Leaf operations may be seen as a male dominated department, I've been taking challenges and have led in my position for four months with pride!
Q: What are the benefits of working in a global company?
A: On a global platform you have the resources to make a world-wide impact. The same opportunities aren't always available at smaller companies. Global companies also offer a diverse and exciting culture – people come from a variety of countries and backgrounds. You gain a whole new appreciation for the range of different people and perspectives in the world.
Q: How is BAT becoming more sustainable?
A: Over the past four years, I've noticed an accelerated change across the business. Sustainability has become one of our prime considerations. Right now, we're pushing to build a circular economy and be net-Zero by 2030. As a regional manager, it's my job to drive BAT's ethos by recruiting the right talent, shifting mindsets and engaging with stakeholders. Most of all, sustainability depends on farmer communities. In Leaf Operations, we're dedicated to protecting our suppliers and supporting the farming families.
As a champion of sustainability, Maya is helping us optimise supply chains to build a better tomorrow. Could you be the change? Explore Operations careers at BAT.